Every tourist who visits Athens is just interested about ancient ruins like The Acropolis or Erechtheum. More people know Athens as the only historical city and this is a big mistake. In and around Athens you can find a lot of beautiful beaches. Let's go to meet these amazing beaches with Greek Tours.  
1.Varkiza beach
Varkiza is located 27 km on the south part of Athens.  This beautiful seaside small town is famous for few small beautiful beaches that look like as small natural swimming pools surrounded by cliffs. The town of Varkiza is one of the trendiest areas in the southern part of Athens during the summer.  
2. Legrena beach
 Legrena  beach is located 64 km south east of Athens and 3km west of Sounion , next to the famous Temple of Poseidon .This beautiful beach is long and sandy and for many meters is surrounded by a protected cove with rocks. Also Legrena is totally unorganized but the water is very clear and little could.
3. Glyfada
Glyfada beach is found just 16 km south of the Athens center. This is a big beach mixed  sandy and rock . Beaches in Glyfada are usually well organized and often on the beach is located a beach bar or a restaurant. Glyfada is the most famous place  for relaxing swimming and beach party.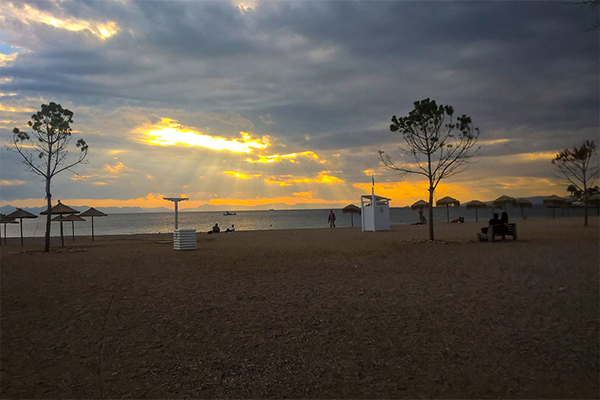 4. Kokino Limanaki  
This wonderful beach is located 27 km from Athens close to Rafina village. Kokino Limanaki means small red harbour and it is surrounded by red cliffs and has blue crystal water. This beach is not quite organized but is  very calm and clean.
  5. Kavouri
 Kavouri beach is located 20 km south from Athens town. This big sandy beach is very good , it is organized and suited for beach games, like beach volleyball and other activities. On the day Kavouri beach is a family friendly place, while on the night this beach is a good place to have a beach party.
6.Vouliagmeni
Vouliagmeni beach is located 23 km south of Athens on the opposite of Vouliagmeni Lake.
This sandy famous beach is very well organized and offering all types of beach facilities. Also Vouliagmeni beach offers play area for children, water slide, and more attractions.
7.Porto Rafti
Porto Rafti is located 35km south east of Athens and is one of the most beautiful district of Attica. The beach of Porto Rafti is long, pebbled ,and well organized . Also near the beach are located many cafeterias, restaurants and beach bars.
 8.Cape Sounion
Cape Sounio beach is located 65 km of Athens and is probably the most beautiful beach of Athens area. If you visit Athens you have to see this amazing beach . Cape Sounio is sandy beach with beautiful view to the ancient temple of Poseidon.
9. Lomvarda beach
Lomvarda beach is located 30 km of the city centre of Athens, next to Vouliagmenis area. This picturesque beach consists of soft sand and small pebbles. A part of the beach is organized with some umbrellas and sun beds. The water is usually calm and quite clean.
 10. Lagonisi beach
Lagonisi beach is situating 40 km south east of Athens.  This beach is characterized by picturesque coves and clean water and is consists of tiny bright sand. Also is often visited by lovers of water sports .